Most of my friends and I agree that St. Patrick's day is amateur day for drunks.  The people that don't normally go out and drink other times during the year (with the exception of New Years) go out and don't know their own limits.  This makes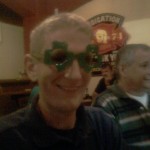 St. Patrick's day a day I tend to stay close to home. 
This year though, I got invited to a friends birthday bash which was going to take place at Meg O'Malley's.  So I decided to be a good sport and join them knowing that Meg's throws a huge party for the day of green including green beer.  We got out there early and grabbed seats which were very hard to come by.  We stayed put most of the evening and watched the people and festivities.  Had a great time and saw everything from bagpipes to balloon animals.  I even found me a pair of spiffy spectacles.  Tim over at Rant has a few more photos if you want to stop by and take a look.  Everyone should check them out and ask him where the pictures of him are.  I know he was sporting a really awesome hat for a while.